Hi Everyone,
I hope you are all keeping well and following government guidelines to keep yourselves safe and well.
The good news is that we are now allowed to Bowl again. Albeit under strict guidelines. Please read the guidelines herein and ensure that they are followed. Our continued ability to Bowl will be determined by how well we all follow the rules.
Update: 6/7/2020
Following new Government advice Bowls England has issued new advice specific to Bowls. These new guidelines relate to Spectators, Pairs, Triples games. Please ensure you read the new guidelines and adhere to them.
If you have any queries please contact The Honorary Secretary ( Dave Rowan )
Regards Dave Rowan 6/7/2020
Hon Secretary - Waterside Bowling Club
Waterside Bowling Club - Covid 10 Playing Guidelines ( As at 7th July 2020 version-2020-005:
Waterside Trip To Tenerife ( Holiday plus 3 Teams in the Tenerife Open. 21st February - 3rd March 2020 )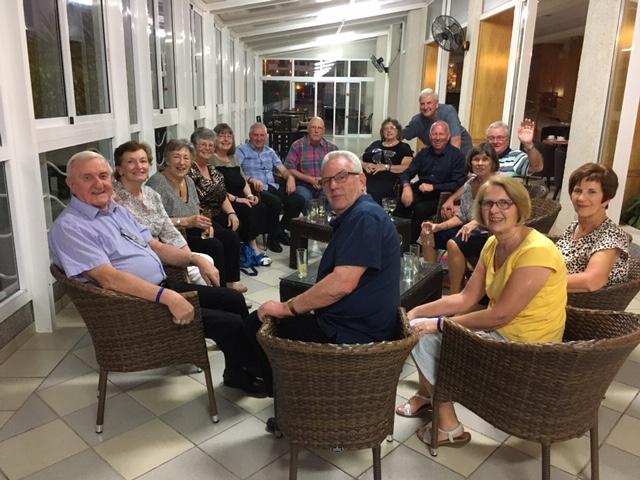 What a really brilliant trip. Thirteen intrepid souls set off. Unfortunately for those who couldn't make it it was a really great trip. The weather held superbly with temperatures averaging about 26. It was great to have a break in the sun.
The hotel was good and all the facilities excellent. The weather held firm and the sun shone the whole trip.
As well as a sunshine break it was an opportunity to take part in the Tenerife open. We entered three teams all of which won one game which based on the opposition, carpet rink and only allowing Taylor Ace bowls the teams performed well. It really was a pleasure to play in the Sun. The Tenerife Bowling Club was very welcoming and with superb facilities including a band playing sax and guitar on the side one day
We have to give huge thank Judy and Ian Vincent who organised the whole trip as well as the Bowls teams, They did an absolute brilliant job and we are really grateful. The trip was eventful in that we had to endure the worst sandstorm in Tenerife for ,any years but it only lasted two days although we still played bowls during it. It was a bit dusty but fun. Of course we also had the Corona Virus just up the road in a hotel in Adeje. We did wake up each morning wondering if there was a ring of police and ambulances outside our hotel, but thankfully didn't happen. Last but not least we had to abort landing at Bournemouth due to a earlier light plane having trouble so it was given priority.It did make us wonder when we lurched back up in the sky.
Anyway it was a really great trip and once again thanks to Judy and Ian. Some Pictures below.