1st June 2019
Superheros Bowling Funday
What a brilliant day ! The weather held firm and the sun shone pretty much the whole day. Members really got into the spirit of the day and dressed accordingly as you can see from the pictures below.
A series of games was devised and managed well by Terry Benham and everyone had a really good time.
As you are all aware these days allow members to get together in a fun and social atmosphere and it was really good to see some of our 12 new members attending and dressing up. It is also important to remember that thses events do not happen without a huge amount of work by those who organise the day
Thanks must go to the social committee who managed the day, Terry Benham, Maureen Rowan, Judy Vincnt , Brian Laughlin and all those who helped be behind the scenes, Ian Vincent, Roger Mitchell behind the bar and anyone else who assisted.
The highlight of the day of course was the arrival of the Queen (Min) who graced us with her presence. Once again thankyou for your support.
27th April 2019
Presidents V Captains Day - Dibden Allotments Fund
We took the opportunity to unveil a plaque to thank Dibden Allotments Fund for their generous donation to Waterside Bowling Club.
The Plaque was presented by President Dot and will be a permanent reminder of the help they give to us and local charities.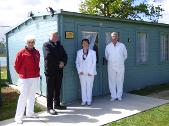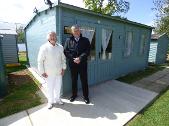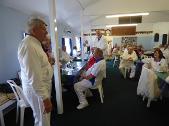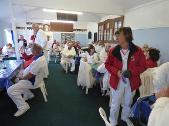 -------------------------------------------------------------------------------------------------------------------------------------------------------------