Waterside Bowls - Fixture Booklet -2018
Waterside Bowls - Club Competitions Draw -2018
John ForrestTrophy - Mens Three Wood Triples Saturday 19th August 2017
A good entry for the last Men only competition of the 2017 season. You do start to wonder where the time goes. It only seems like yesterday we were opening the greens.
After the first four rounds the scores were very tight and whilst Jamie Hughes team had won all four games they could still be edged out of the final if other results went against them. It was not to be however and Dave McElhenny's team came through on the outside to contest the final.
The final was between Dave McElhenny, Stuart Mason and Terry Hayward versus Jamie Hughes, Jeff Goldsmith and George Swainston. The final was incredibly tight right up to the last end when Jamie Huges team gained shot to win by a very close margin.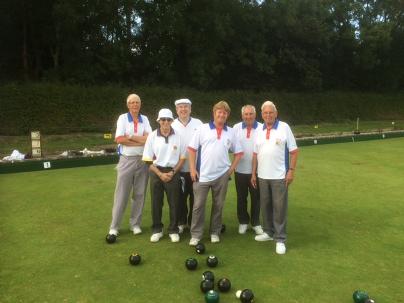 John Gilbert Trophy - Mens Three Wood Triples Saturday 8th July 2017
The Weather again was kind to us although it was incredibly muggy. However non-one dared to complain as Doug Lewis as 98+ was going strong in the heat. The first two games were incredibly tight with only two teams from each division recording a win with one loss. This meant that final was open to all teams in both divisions.
The final games were very tight with Ian Winterburn's team and Dave Bakers teams just running clear on the way to the final. Ian Winterburn may regret beating yours truly by a large score which precluded yours truly a possible place in the final, if we ever have a handicap competition.
The final as stated was between Ian Wnterburn, Chris Kavanagh & John Lewis-Parkes against Dave Baker, John Allan and Dennis Cox. A really well fought out Final going into an extra end with Dave Bakers team running out very close winners.
Congratulations to both teams especially Chris Kavanagh and John Allan, both brand new bowlers this year who both aquitted themselves well.
Many Thanks to Jen Lewis, Mary ward, Rita Wye , Maureen Rowan and Jean Nichols for sterling work in the kitchen and manning the bar.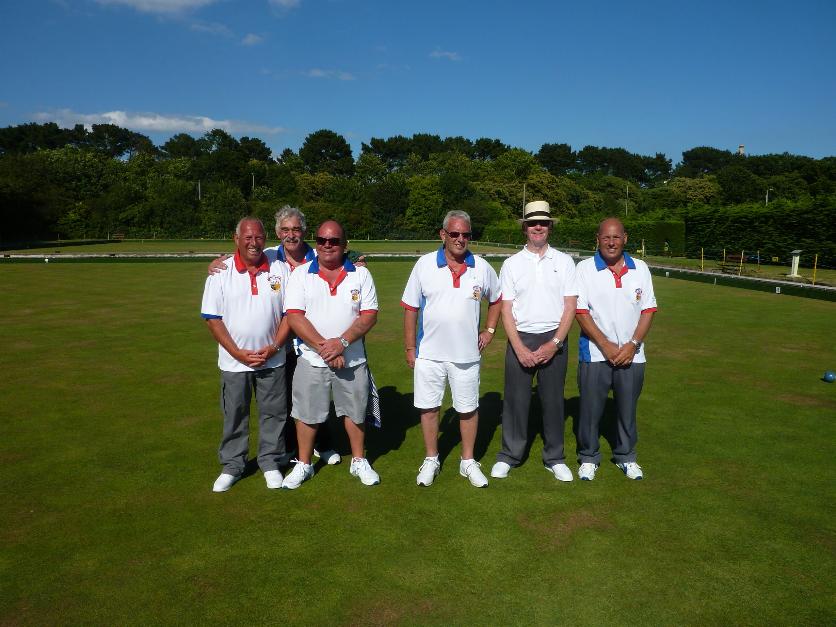 Roger Downes Trophy - Saturday 17th June 2017
A glorious day of sunshine greeted the members for the Roger Downes trophy. where an excellent turnout of members for this annual mixed triples competition provided a very competitive days bowling.
Post three preliminary matches only 3 teams seemed to be in contention for a final place. However in the final preliminary round all three teams lost! Yours truly thought that complicated equations would have to be brought to bear to determine finalists but as usual fate took a hand and no other teams performed to steal a final place.
The final was between Roger Mitchell/Brenda Slade & Bob Wellington and Brian Mainwaring/Min Topp & Viv Dando. An excellent final with Roger's team just edging the final.
Thankyou to all those behind the scenes for lunches, bar work, kit etc.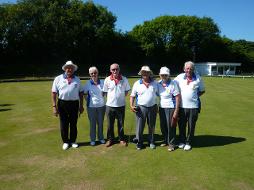 Goodall Cup - Saturday 6th May 2017
The Weather was kind to us and the sun shone for most of the day. Eighteen teams took part and a very close call it was for the two finalists. At end of the the knockout stage one team was clear with seven points and six other teams had six points. However an error in one of the cards further added to the drama as it transpired that two teams were clear with seven points. The finalists on the day were Harold Lawes and John Lewis-Parkes versus Brian Gilbanks and Pam Mold. A really tight final with Harold and John Leading by three shots on the eighth end. Brian and Pam however picked up three points on End 9 and it was down to the final end where Brian and Pam picked up a two and took the Trophy.
Well done to both teams.
------------------------------------------------------------------------------------------------------------------------------------------------------------------------------------------------------------