Waterside Food-Bank - What It Does:
Presidents Note:
Please read the following and help duriing the year as much as you can as this is an incredibly worthwhile charity. Financial hardship is as endemic today as it was perhaps when we were younger. It affects not only the young or middle aged but also the old. How many of us face a funeral bill we weren't prepared for etc so please support me during 2018.
Many Thanks - Dave Rowan - President ( Click on logo for Waterside FoodBank Website)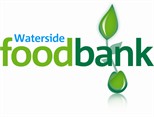 Waterside Foodbank offers emergency food provision for local Waterside people who are experiencing a short term crisis.
This area is from Marchwood to Calshot, Beaulieu and East Boldre.
Clients access food by producing a red voucher which can be obtained from one of 40+ professional and voluntary agencies working with people on the Waterside. eg. Dibden Allotments Fund, CAB-Hythe and Basingstoke, Two Saints, Its Your Choice, Handy Trust, You Trust, Probation Service, HCC Children and Adult services, New Forest District Council, Mental Health Teams etc.
Clients can have up to 4 vouchers in any consecutive period. Each voucher entitles them food, which has been nutritionally worked out to provide a balanced diet of three meals a day for three days.
This food enables people to seek further help or tide them over this short term emergency.
The reasons for coming to Foodbank are varied. Ie Job loss, a large bill such as a speeding fine, break down in relationships, ill health, bereavement, release from jail, escaping from domestic violence, together with benefit delays and changes, low income.
During 2016/17 Waterside Foodbank distributed 695 Emergency Foodboxes to a total of 2342 local Waterside People. 1272adults and 1070 children. 15.75 tonnes of food was donated and 18.4 tonnes was distributed.
During December 2017 alone, 114 boxes were distributed to 425 people which used 2.35 tonnes of food. During this month every client received an extra bag of Christmas food.
Waterside Foodbank is part of the charity Waterside Ecumenical Projects and relies solely on volunteers, and grant funding or donations to do the work it does. Premises need to be leased in order to distribute and store the food.
Most of the food comes by way of donation from businesses, churches, schools and individuals, but occasionally there is a shortfall in certain items which then has to be bought in.