John Gilbert Trophy - Saturday 26th September 2020 - Men's Three Wood Triples.
The weather held firm for the Last of the Club Competitions to be held in 2020. It's been a very strange season but I think I can safely say that our members have bowled more this season than in the last few seasons. The incredible hard work by your committee has resulted in a season where everyone has had the chance to play competitive bowls safely and in line with the Covid-19 regulations and for that we owe them a huge debt of thanks.
It was a good men's turnout for the John Gilbert Trophy with 36 men taking part. The game was 3 games of Eight ends with a final of Ten ends, one on the first end of each game.
After some close and spirited games the finalists were Winterburn, Yates and Hawkins versus Mills, Attrill and Cross. The final was close affair for the first half dozen ends the the Winterburn trio pulled ahead to win a well played final. Congratulations to both teams.
Many thanks to Lesley, Jacqui and all the ladies who helped provide toasties and refreshments during the day and of course Shirley and Chris who manned the Bar. Also great thanks to Stewart - Comp Secretary and his able assistant Carol for the organisation.
A couple of photos below from the day courtesy of Lesley Mitchell.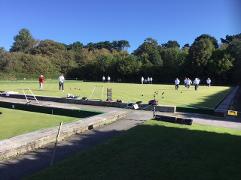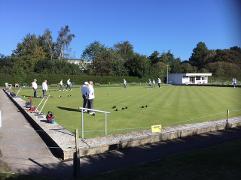 _________________________________________________________________________________________________________________________________________
2020 Singles Ladder Origins:
After 256 singles games played and 48 members taking part since we began the singles ladder we have now got down to the final 4 of each Division. It has been an absolute privilege and great fun to run this competition. It started off without markers and with none of us really knowing what we were doing or how it was going to work. But with your feedback and encouragement, we got there in the end. I originally thought we may get 15 players if we were lucky, but what an amazing group of people you are. You threw yourself into the unknown and played in the true spirit of the game with some matches taking nearly 3 hours to complete due to the amount of talking that was going on between you! This unique singles ladder has given us the chance to forget the big bad world and remember the good things in life; friendship, laughter and our wonderful bowls club.
----------------------------------------------------------------------------------------------------------------------------------------------------------------------
2020 Singles Ladder Finals day - 18th |uly 2020
The sun shone for the day and members turned up to watch the finals. All the games were well contested and although serious play there was a real sense of club spirit. This was our first day since lock down that members were able to get together as a club and enjoy playing and watching our sport.
The bar and the kitchen were open following advice from local environmental officer and also ensuring we followed Government guidelines and Bowls England advice.
Huge thanks must go to Chairman Janet for organising the singles ladder, Roger Mitchell for managing the playing day and Of course Chris and Shirley Kavanagh for managing the Bar, Lesley Mitchell , Judy Vincent, Maureen Rowan, Jacky Tritten, Barbara Clarke for managing the Kitchen and enabling us to provide toasties in a safe manner. It was really good day. If i've forgotten anybody in than
kyou's please know that all your efforts were really appreciated.
Winners: Division 1: Terry Benham, Division 2: Colin James, Division 3 : John Allan.
Club Competition Rules (Iss:001 July 2019):