July 2020 - Hampshire County Competitions Update
What a great year we are having so far in the County comps. It definitely deserves a mention so members can go along and support the players as they play the most important games., I know they would be grateful for your support.
Janet Ballard and Colin James have both won their area ( 4 Wood ) singles semi-finals and now go through to Hampshire Quarter Finals.
Janet Ballard's game is on Friday 16th July at Banister Park at 6 pm.
Colin James's Quarter final is at Bannister Park on Sunday 18th July at 09:30am
Jan Leppard, Sue Lewis Parkes, Lesley Mitchell and Janet Ballard are through to Semi final of the senior fours on Sunday 25th at 10 pm at Bannister Park.

Sue Lewis-Parkes, Lesley Mitchell and Janet Ballard are the Triples quarter finals on 1st August at 10 pm at Banister.

I would also congratulate Geoff Cross , a relatively new Bowler who got through to Area Two Wood semi-Final, just losing by a couple of shots.
Congratulations to you all and good luck in the next rounds.
2018 - August Waterside Ladies Reach National Fours Finals At Leamington.
Ladies National Fours
Waterside Bowlers performed again by reaching the Ladies National Fours Finals at Leamington Spa on the 6th August.
They lined up against a team from Huntingdonshire and a really tight game ensued. we went into an early lead but an unfortunate 5 at about end 8 put the scores very even. From that point on it was nip and tuck until the 21st end when Waterside , who were 2 down managed a super two to go into an extra end.
Unfortunately it was not to be and our girls lost out on the extra end. It must be said however they acquitted themselves brilliantly and the club is very proud of their achievement. Well done Ladies. A few photos from the day below.
Janet Ballard is scheduled to play in two Singles classes from the 9th August onwards and I'll let you know progress.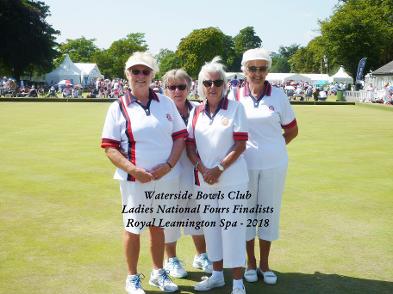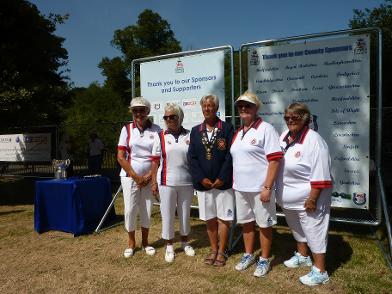 ----------------------------------------------------------------------------------------------------------------------------------------------------------------------------------------------------------------------
2018 - July Waterside Players Perform at Southampton Open
Triples
Waterside Bowlers performed again at the Southampton Open this week ( 23rd July to 28th July with the Ladies Triples Team Of Lesley Mitchell , Sue Lewis-Parkes and skip Janet Ballard winning through to and triumphing in the Ladies Triples.
This is no mean feat with entries from as far afield as Jersey who our girls managed to overcome in the semi and then went to an excellent win in the final, Congratulations to them. They received the trophy plus a cheque for £55 each. (Don't forget the presidents charity ladies.)
Singles
Congratulations also to Both Dave Rowan (President) & Janet Ballard (Chairman) where Dave lost in the quarter final and Janet lost in the Semi-final stage of the tournament. This is a very tough tournament with men facing 7 rounds to the final and the ladies 5 all over 6 days. Also considering the field contained entries from Junior Internationals and also Tom Bishop , world champion of champions in 2014. They can both be very pleased with their performances.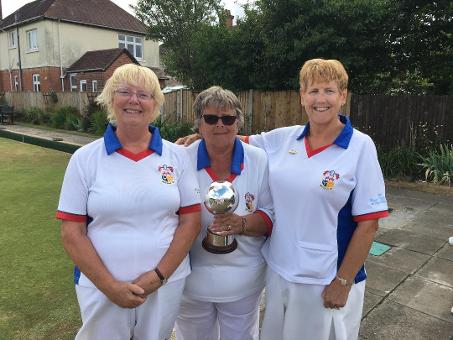 2018 July - Waterside Ladies Get To LEAMINGTON.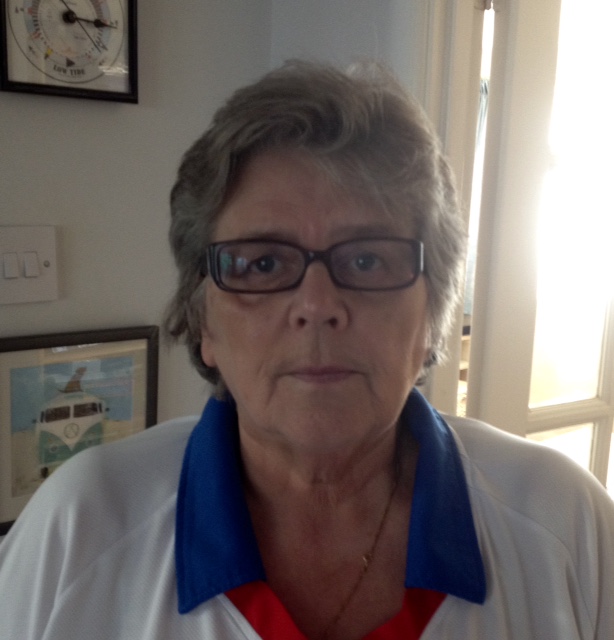 Massive congratulations to : Jen Medley, Sue Lewis Parker, Mary Ward and Janet Ballard who have qualified in the Rinks for the National Finals at Leamington. They play as Hampshire A on Monday the 6th August at 2 pm and will be playing Huntingdonshire in the preliminary round. Mary Ward will also receive her County badge this year due to their success.

Janet Ballard has also qualified in the National and Senior Singles with her first match being in the National Singles as Hampshire C against Dorset on Thursday the 9th at 2 pm with the Senior Singles starting on Saturday 11th at 12.30.
-----------------------------------------------------------------------------------------------------------------------------------------------------------------------------------------------------------------